Is a lock box designed to be used alone as a burglarproof safe or to be placed within safes to integrate and complete their security.
Fitted with a front opening for introducing valuables with the door closed, with a comb slide, or optional rocker, which prevents recovery once entered.
The door, conveniently reinforced at its closing points and where the lock is, has internal hinges to prevent its unhinging.
LYRA LOCK BOX is completed by an innovative control logic specially designed to enable through an integrated keypad, the broadest programming and control possibilities.
The product is supplied with special holes to allow it to be anchored inside security van.
Typical applications:
Values protection inside security vans
Antirobbery safe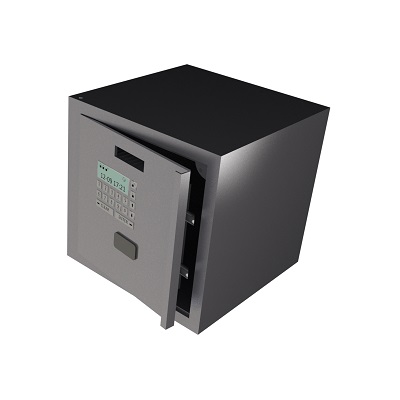 External dimensions 375 x 300 x 350 mm (l x d x h). Sheet steel structure suitably reinforced at the hinge and door lock.
Complete with two electric deadbolt locks, LCD display, silicone rubber keypad and iButton® key.
ELECTRONIC CONTROL
Microprocessor with integrated ultra-low power LCD driver.
Screen-printed tactile silicone rubber keypad.
Large liquid crystal display with high contrast dedicated text and icon area 76mm x 25mm.
Calendar clock integrated in the microprocessor. Buzzer for acoustic warning.
Powered by 2 AA 1.5Vcc batteries.
Standard equipment

 motorized electronic lock with delayed opening from 15 'to 95'
 electronic key to bypass timing
codes to 8 decimal places
supervisor code for setting the lock box's operating parameters and operator code just for opening
time lock function on multiple code errors
battery status indicator. Battery duration is around 2 years
Optional equipment

provision for remote opening with a variable code
ability to manage enabling time slots