AURORA is tested according to standards UNI EN 1627:2011, UNI EN 1628:2016, UNI EN 1630:2016 with classification RC4 against forced entry, compliant with standard UNI EN 14351-1:2010.
Frame constructed from laminated steel profile sections, seam welded in sections of 50 x 60 mm and faced with perimeter sealing elements in EPDM. Frame fixture facilitated with adjustment compensation system.
Stratified glass 29/31 mm compliant with standard UNI EN 356:2002 with resistance class against manual attack of P78, and standard UNI EN 1063:2001 with resistance class against projectiles of BR3.
 Tubular steel glazing bead 20 X 20 x 3 mm and 8M countersunk fixing screws.
Side stiles containing the lock, deviators, and movement shafts are protected by manganese plate over the entire surface.
 Lock with crash bar and 7 closing points, automatic reset compliant with standard UNI EN 1125:2008.
 Hinge pins compliant with standard UNI EN 1935:2002 in adequate number to support the weight of the door.
 Closure electromagnet complaint with the specifications of circular n. 74/2000 for emergency exit doors specifically designed for activities like banks, post offices, etc. Electromagnet cable protected with manganese plate.
Typical application
Shops

Emergency exits for banks, post offices, jewelers, airports, etc.

Control rooms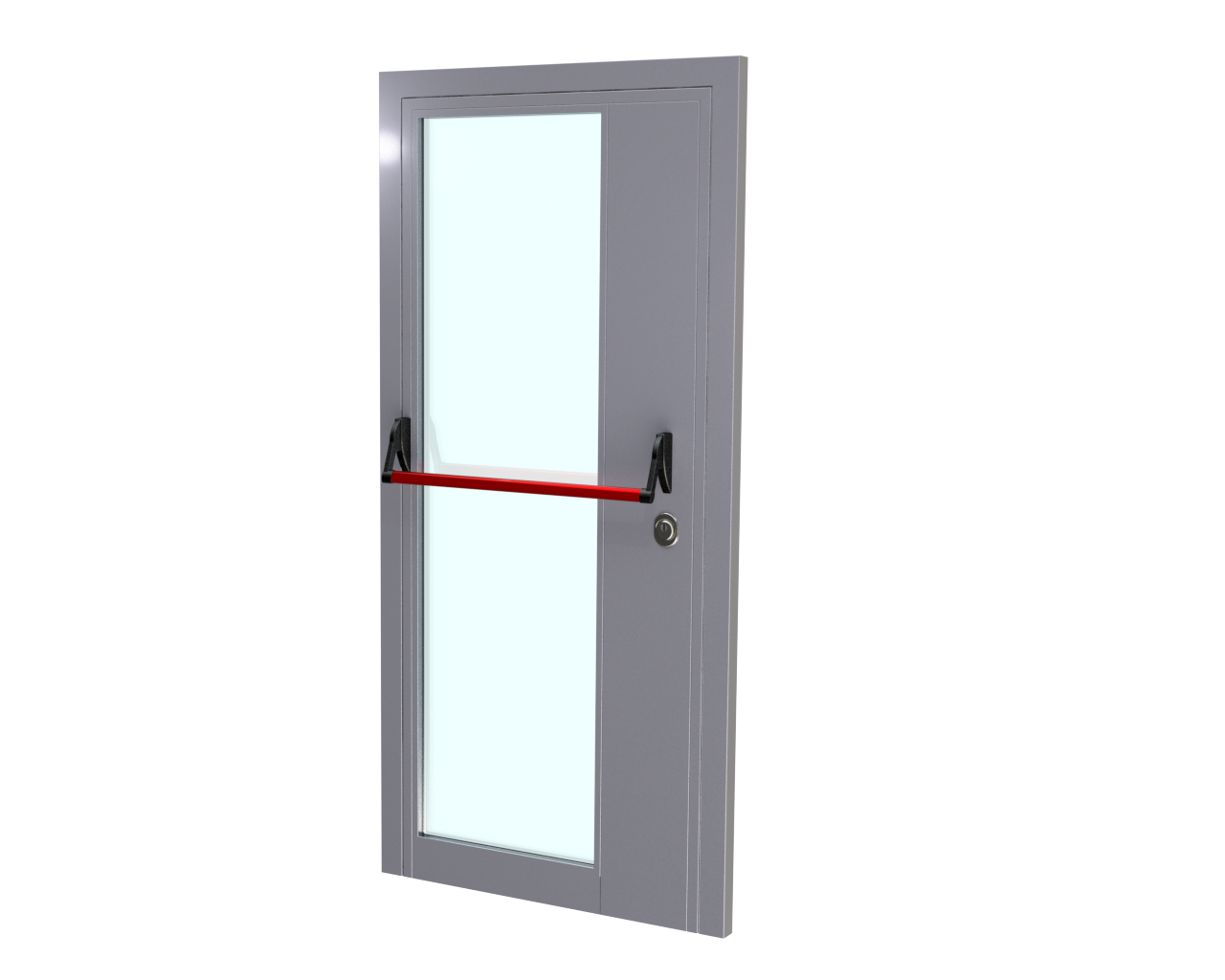 Size
Standard:
 Frame made by laminated steel profile sections, seam welded in sections of 50 x 60 mm and faced with perimeter sealing elements in EPDM. Frame installation is made easier with an adjustment compensation system
Stratified glass 29/31 mm compliant with standard UNI EN 356:2002 with resistance class against manual attack of P78, and standard UNI EN 1063:2001 with resistance class against projectiles of BR3.
 Lock with crash bar and 7 closing points, automatic reset compliant with standard UNI EN 1125:2008.
Retracting draught excluders
Door closer pump
Cylinder guard
Optional:
Closure electromagnet complaint with the specifications of circular n. 74/2000 for emergency exit doors specifically designed for activities like banks, post offices, etc. Electromagnet cable protected with manganese plate
 Microswitch and magnetic contact to signal the state of the bolts and door
RAL colors and textures