ULISSE is a steel door designed for accessing rooms behind ATMs.
It is made in three standard sizes, all with the possibility of having the classic peephole, an LCD viewer or 80 x 80 mm inspection window. Certified against burglary according to standards:
UNI EN 1627: 2011
UNI EN 1628: 2016
UNI EN 1630: 2016class RC5
The ULISSE door has 13 points of mechanical closure, 5 deadbolts and a closure point with a failsafe dropbolt, which can be unlocked by a programmed electronic key. Defenders  are certified against tampering protect the cylinders on the outside.
The ULISSE door is made in several versions:
A-CL - with classic peephole
A-EL - with electronic peephole supplied with 4" display
B - with inspection window.
Typical Application:
Accessi automatici per aree self ATM
Accessi aree safe gioellerie e banche
Sale di controllo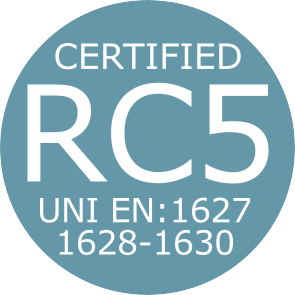 Dotazioni di base
Pompa chiudi-porta
Pomoli acciaio inox
Defender Classe 5 serratura meccanica
Cilindro europeo standard
Accessori per anti sollevamento
Serratura a 13 punti di chiusura
Elettroserratura 1 punto di chiusura
Sensore stato porta
Sensore stato catenacci
Semaforo di stato
Spioncino
Citofono con sistema anti manomissione
Pulsante interno anti vandalo con segnalatore luminoso
10 regoli messa in bolla porta
Dotazioni opzionali
Controllo accessi con lettori di tessere, lettore biometrico, tastiere a combinazione con codice anti-coercizione
Cilindro di sicurezza
Microtelecamera interna
Controllo del transito monopersona
Finitura goffrata nelle tinte RAL
Spioncino a sportello con vetro blindato
Dimensioni fuori standard
Dimensioni